FREEBIE TIME!
I am super excited to finally share this pattern with you all!!
P.S.) The gorgeous fabrics here were courtesy of Hawthorne Supply Co. In addition to having an impressive selection of beautiful fabric prints, they also have a really helpful support team. Although I got them for free, my honest opinion of the fabric quality and overall experience is that they rock and I totally recommend them!
When I was thinking of exactly what accessory to make that would go with the Ichigo Bomber Jacket, I have to admit: at first I was stumped! After some time, I realized that a bag was the way to go, but there are so many bag patterns out there so it was tough trying to think of something I hadn't seen as a pattern yet. Oh, and it had to be appropriate for all genders too!
At the time, Paris Fashion Week and NY Fashion Week had just wrapped up and one of the things I noticed a lot of was unisex chest bags! 💡💡💡! Bingo! After some trial and error and a few different tests, I came up with the design for the Mochi Bag! I didn't want it to be too fussy but it still had to be cool enough to be a conversation starter and I think it hits both marks pretty well! Plus it looks great underneath the Ichigo Bomber Jacket!
Side note: When I was sewing for the final week of season 16 of Project Run & Play, I had to abandon a rainbow fanny pack I was making because the instructions were awful. I honestly couldn't figure them out because there was a lot of left out or confusing information which was a bummer because I bought that pattern and used the last of this really special fabric (for those wondering, I thought of reaching out to the designer but from the comments and description, it was clear that any issues I would have to figure out on my own). UGH. The pattern was completely unusable to me that I just deleted it! But from that day on, I had vowed that one day I would draft a fanny pack pattern that was easier to make and be a suitable size for kids too! The fact that the Mochi Bag can double as a hip back really fulfils me because I got to make good on my promise to myself!😂
The Mochi Bag PDF Pattern features:
adjustable strap

zippered opening

lined interior

front pocket

one size fits most and is suitable for boys & girls!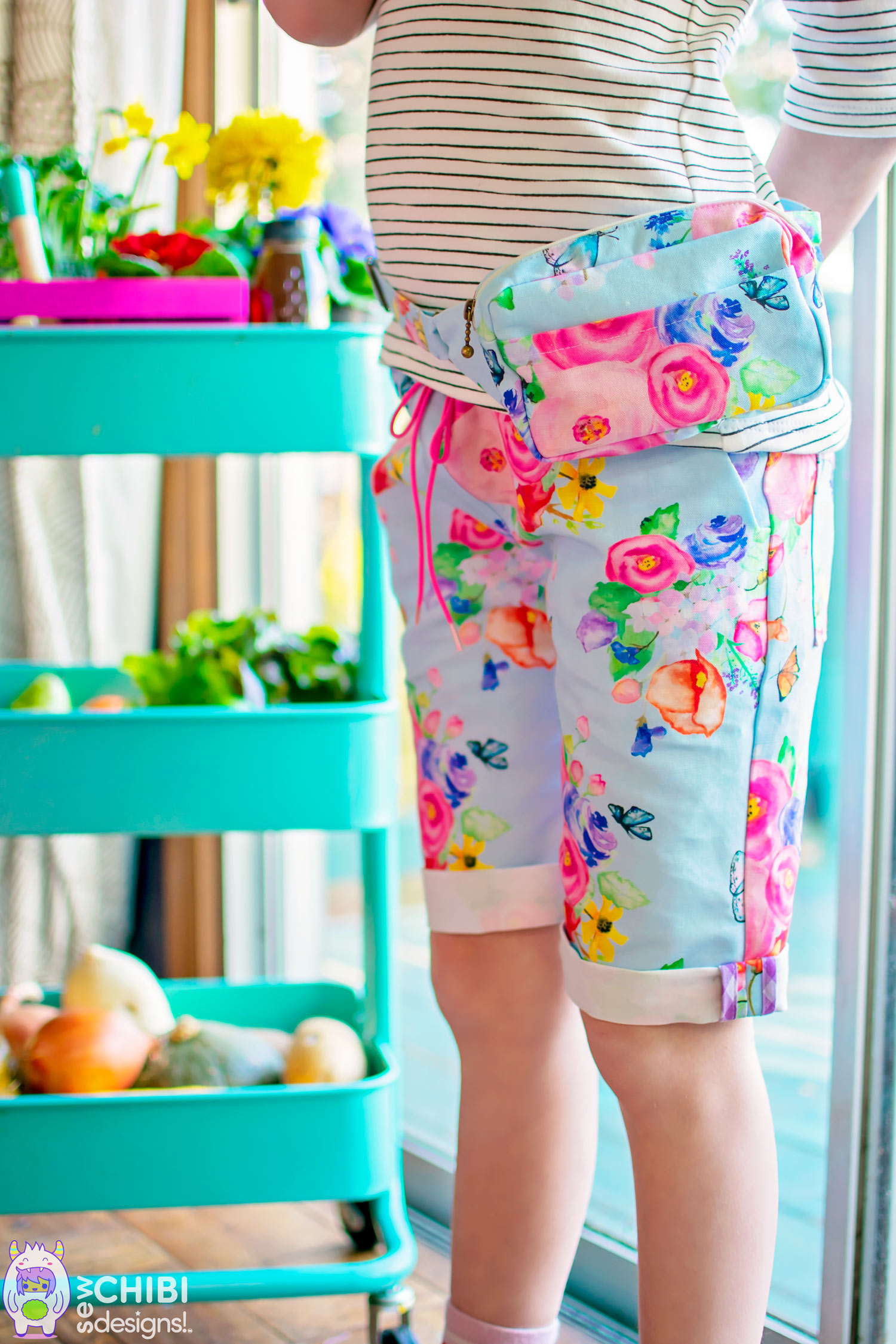 • A cross chest bag that can also be worn as a hip bag.
• Zippered opening with front pocket
• Adjustable strap
• Unisex design! Perfect for boys & girls. Fits most kids.
•BONUS! FREE Adult sizing available in my secret resource clubhouse for newsletter subscribers.
As soon as I finished the pattern, I realized that I really wanted one too! LOL!
the Mochi Bag in the Wild!
For the Lookbook, two designers also sewed up a Mochi Bag for their kiddos and they both made me so giddy!!
I honestly believe that Jess is some sort of magician because everything she makes blows my mind with how adorable it is! This Mochi Bag that she made with the little scooter patch is t h e c u t e s t t h i n g! I mean, 😍😍😍!!!
Sabra from Sew a Straight Line
I am always so excited to see boy versions of the patterns I made! Sabra made her son Jonas this cool Mochi Bag to go with his Thyme Shirt (also from the Farmers' Market Collection)! 🖤🖤🖤
*BONUS FREEBIE*
Let's Eat! A Chopsticks and Rice Spoon Holder!
Ok, I know it's not the first thing you think of when you go to a Farmers' Market, but if you're going picnicking afterwards then this little pattern might be a good idea to make!
It came about because my eldest daughter got this cute little set as a Christmas gift and I thought the design was so neat that I should maybe take down all of the appropriate measurements so I could make more in the future! Well, it's a good thing I did because, two months later, she lost the pouch 😂😂😂 SO GLAD I took those measurements down! Right before school, I literally drafted out the pattern and made this test! The whole process took about twenty mins so it's safe to say this project can be done in about ten mins or less! What a cool gift, right?! Seemed too good and too easy to just keep all that info to myself so I decided to make it into a bonus freebie for you all! "Let's Eat! A Chopsticks and Rice Spoon Holder!" is 100% perfect for a first sewing project or otherwise beginner!
Notions
1/4 yard (25cm) of lightweight cotton fabric (enough to cut out x 2)

1 wooden, plastic, or glass bead approximately 3/8" (1cm) wide with an opening large enough to thread elastic cording through

16-17" of elastic cording in color of your choice
Instructions!
Super quick little something to make for those lunches away from home, right?! If you make one, be sure to use the hashtag #letseatpdfpattern and tag me in it too!
That wraps up this freebie segment of my Project Farmers' Market post collection! Be sure the main post, the Ichigo Bomber Jacket Pattern Release, to learn all about the latest Sew Chibi Designs pattern!
In this post, I go into depth about the other pieces I made from the various patterns in the pattern capsule! Click on the image below to find out all about it!