Today is such a special day! I was asked to be a part of the first ever Figgy's Blog Tour for Shelly's stellar (pun intended) Heavenly Winter Collection of patterns for 2013/2014!
Disclaimer: this post contains affiliate links. And while I did get the patterns for free, all the opinions are completely my own.
I was outside of my skin when she asked me to test for it back in October... it literally made my night (which already awesome because it was Halloween ;-), but more on that later.
Shelly has lined up a rad-tastic group of bloggers to be a part of it, and I am kicking it off with a Valentine Collection!
Sephira's look!
The patterns from Figgy's are so impressive:
the digitization of the patterns is easy to follow (even if you print in only black ink which I always do)
the instructions are nicely detailed and great for beginners (she even puts a glossary of sewing terms that pertain to each specific pattern)
the designs she comes up with are so "fashion forward" yet classic; interestingly detailed with the ease of everyday wear about each piece. And the customizations I seen from others of her lovely patterns are some of the best and most creative out there. They lend themselves to some truly creative realizations. (Some of you might remember the Nyan Cat dresses from last May that were from Figgy's Scirocco dress pattern.)
(Sidenote: If you are in the Portland area, she teaches classes at her studio in Lake Oswego and even teaches children too!)
So for testing I did these:
Two Celestial Pullovers (Which also come in teen sizes too! Too bad I'm prego right now or I would have definitely made one for myself . . . ;-) and a Celestial Maxi I made for Sephira (the shorts Azriella were previously made) This time I wanted to combine my need for this year's Valentine's Day dresses with the awesomeness of this tour!
It has been tric-ky trying to photograph anything in Portland (until today which is, of course, super sunny) because it's been relentlessly rainy and windy and it's been a challenging week full of emotional rollercoasters, etc., so we attempted to take a couple of pics at Powell books. Those two had never been, so they were bouncing off the walls of that enormous store.
Let's dissect their dresses, shall we?
I decided early on that I wanted to do a mash up of the Stellar Tunic and the Celestial Maxi because the mixed match look of the Stellar Bodice and the high low look of the Celestial Maxi we just egging me on to combine the two.
So I freezer stenciled these hearts (with at least three coats of paint for each little heart) and then went back and added lil faces to make them more kawaii.
I made a printout of hearts and printed them on to freezer paper and then cut out well over 200 little hearts, then ironed them (shiny side down) on my bodice front and back pieces.
If you are interested in making some of your own, there's a link to a freebie of the heart stencil I made for you to use at the end of this post!
For the sleeves I alternated fun prints with vinyls, pleathers, or otherwise shiny fabrics, flip-floping the order for the opposite sleeve.
Joining the two meant a little redrafting on my part. I basically took the pattern for the maxi skirt and laid it on top of the Stellar pattern where it matched up at the side seams. Sewing it, I joined the two at the waist and added a casing around the waist (covering the seam) on top, making gold ties that cinch around the back with a bit of elastic and giving the top a little bit of a slouchy look. (Secretly, those gold dots are also hand painted).
And I couldn't make a Valentine's Day dress without pockets?! Where o' where would you put your love letters?!
In addition to the pockets I knew I needed to make the skirt look simple but interesting to complement the wackiness of the top (the top is uber sew chibi though, am I right?). I went with a pintuck starburst look on top of a pieced ombre skirt with gold pleather binding.
Despite loving the dress, which I swear she does, she was in such a puss mood because of the chill outside. The cookies didn't help as much as I'd hope they would. Oh well, bring on spring, Portland!
On to Azriella!
I made her an Etheral Dress and a Seraphic Raglan (and a pair of little shoes but that wasn't a Figgy's pattern)
She immediately requested the red vintage waxed cotton to be used for her dress. And whilst on a trip to Joann's she fell in love with this ivory, lacy, pink stripe knit fabric for a shirt. I had to gussy it up V-day style with some gold pleather elbow heart patches and pocket binding. It's so comfy cute on her!
The little shoes were just a little something I whipped up to go with the outfit. Pink vinyl for the tops with ultra glossy red vinyl soles, gold straps and little hearts cut out to peek a boo the red of her tights!
The Etheral dress top I decided on a simple muslin fabric. To add interest, and lots of love, I made a bunch of embroidered colonial knots and the obligatory red waxed cotton for the flounce. I like to call it her "Forget me Knot" dress, because each little knot is like a little love mark from me to her. Man, do I love her!!!! The skirt I wanted to do something one of a kind for her as well so I machine embroidered pink hearts and alternating pintucks with additional "love knots" along the hem.
Oh! And of course, true to form, I did a little handmade glossy button for the closure.
And for love note stuffing, I drafted out some heart shaped floating pockets (lined once again in the waxed cotton) with even more "love knots" around the hearts edge. She literally gasped at them!
But alas, she was jealous of her sister's dress even after all those things, especially that she had a bow on her dress and she did not. Enter the gold belt. Had she told me before that she must have a bow, then I would have sewed it in at the left side seam so it didn't interfere with the flounce. Meh.
Here's a better look at the Seraphic Raglan which I made at a 2/3 width and 6T length... My 6 and a half year old is a bit tiny! Man oh man do I love those heart patches! And yes, those are the same gold shorts as the test pics. My printer broke and I was unable to print anything to make in time!
For both girls, I made some simple heart shaped headbands by fusing the waxed cotton to some fuchsia glitter sprayed broadcloth then sewed little bitty gold buttonholes. Last, I made a couple of gold pleather ties and threaded them through. Pretty cute, right?
And there you have it: My Goofy Heavenly Valentines!
Turns out, in the moments before jumping in the car to go to work, I realized that silly faces were the key. Damnit! Why didn't I try that earlier?!
And keep up with the other awesome bloggers on the tour! Just click on a name below to go check it out!
And stop by tomorrow for another cool blog tour that I am a part of!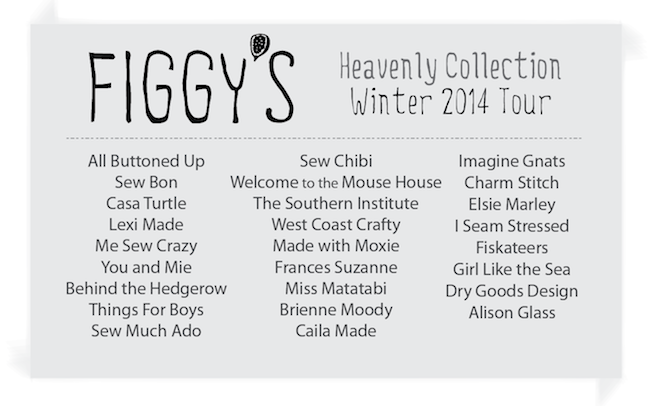 I think that about covers it.
Other than my relentless doting on Shelly for having me be a part of her tour! I am beyond honored.