I'm still in it! Thank you to everyone for your support and comments on my Ice Cream and Sundays looks last week! You all said such lovely things!! I'm excited to finally share this week's Stripes themed looks!
Of all the challenges this season, I think I was most anticipating this one because it gave me a chance to change my perspective on something we see every day! Each week, I wanted to try out different moods: the first week was a bit moody and French, last week was super girly and cute, and this week it's about cool, idol-inspired fashion... but for girls! I've always loved the concept of the series, "Boys Can Wear Pink." I thought about how to do something that would have a similar message, but for girls! Last year, I did a Ziggy Stardust for Sephira but, years ago, for Alida Makes' series "Calling All Kids!" she did a "gender neutral" theme. That's when I first tried out designing from a boys wear point of view. I made two outfits based off of this indie Philly band called Man Man. It was one of those outfits and photo-shoots that really changed something in my design process because of how confident my shy girl felt in her look. It's empowering for them to see themselves in hip, urban streetwear in addition to the pretty dresses because it gives them a chance to appreciate different facets of what makes them awesome individuals!

For motivation, while designing my stripes looks, I watched what I watch a lot of every day: Asian pop music videos and dramas, especially those from Taiwan and Japan! Paired up with my longtime love of optical illusions, I created fashion for my girls that they could wear on a summery Friday night, hanging out with friends in the city, playing vintage video games at the arcade, then catching a movie at one of the retro theaters nearby.
Not a subscriber yet? Sign up at the bottom of this post!
Azriella's Look:
Azriella's look is based on all of the best dress shirts I find in Asian men's fashion combined with Portland hipster fashion. I am helplessly inspired by what is done in terms of fashion in countries like Taiwan, Japan, and Korea. There's so much color, so many striking details and I love it all so much. I never get tired of it! Of everyone, the two Taiwanese actors/musicians that I was most inspired by for this look (well, both looks, actually!) were Aaron Yan and Bii . It was mostly subconscious, not realizing the similarities until after the garments were made!
(the title of this post: Action, GO! is the name of a Bii song which talks about getting rid of negativity and going out into the world with a positive attitude ❤)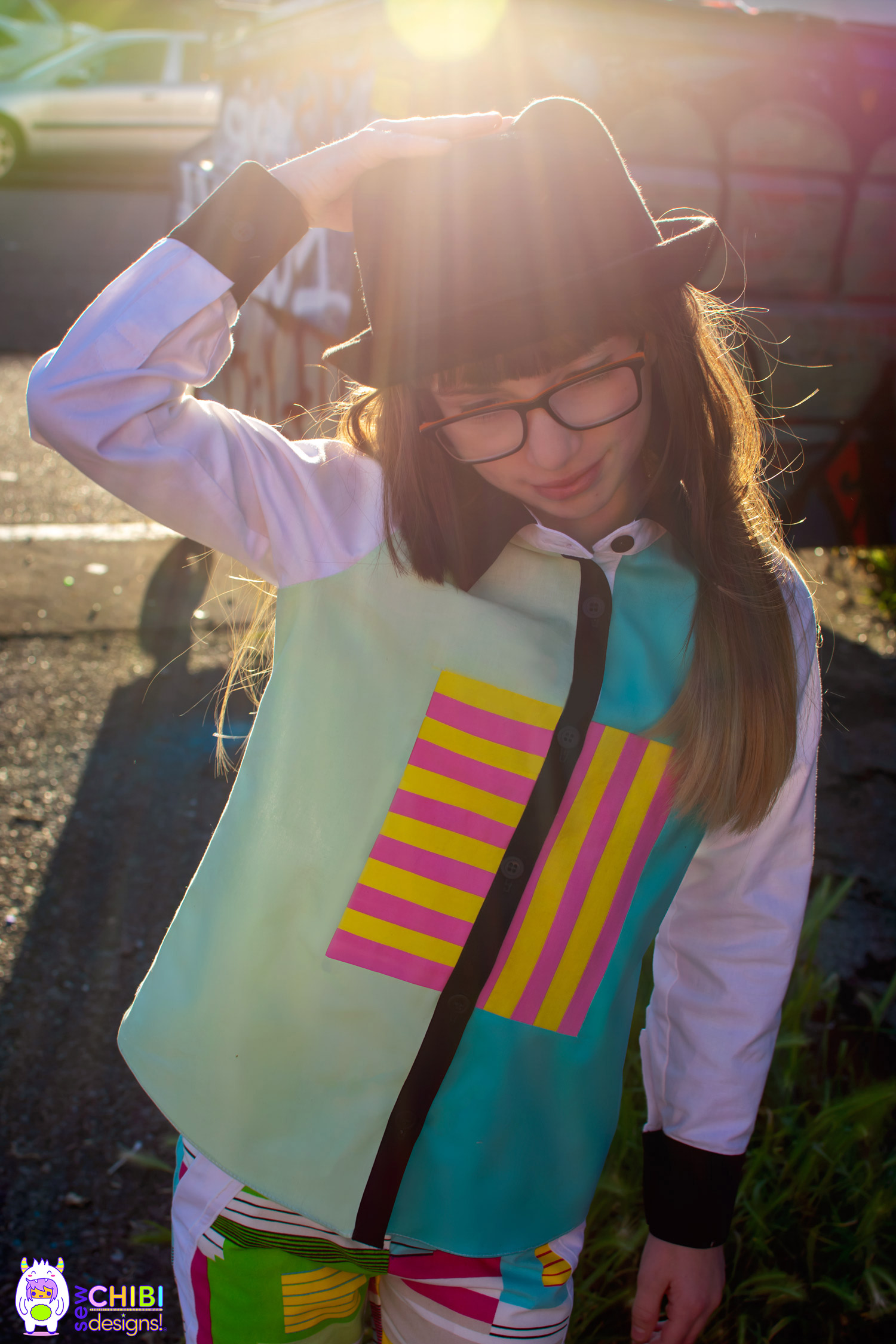 ◽Color-blocked striped button-down shirt.
◽Fitted Morocco shorts with welt pockets, and zip fly.
I started out with this twill fabric from Ikea as part of their SOMMER collection that has stripes in all sorts of designs and in all the best colors. For her stripes, I wanted to do more of a color-blocked effect with varying widths and applications. Using the Morocco Pants pattern by Petit a Petit Patterns, I made fitted shorts with a zipper fly, wide hook and eye closure, inset and double welt pockets, and contrast (black in the front, white in the back) cuffed hem facings. Her shirt, made from Kona Cotton solids, was a based off of pattern #08 in the Japanese sewing book, a Sunny Spot (2015) but with the button placket and French seams (side seams as well as sleeve/armscye seams) of the Laramie Pattern by Hey June Patterns. I did an inset of two color-blocked panels of opposing stripes using a two corner method of setting in a square into a single piece of fabric.
Her shirt was a based off of pattern #08 in the Japanese sewing book, a Sunny Spot (2015) but with the button placket and French seams (side seams as well as sleeve/armscye seams) of the Laramie Pattern by Hey June Patterns. I did an inset of two color-blocked panels of opposing stripes using a two corner method of setting in a square into a single piece of fabric. To be honest, I actually made a really cool, cropped sleeve blazer with a color-blocked running stripe around the mid-section, but it was too short for Azy and too big for Sephira! This shirt was a spur of the moment idea and i love it so much that I find myself just staring off at it!
Most of the best shots of the day interacting together were actually of them sharing this ladybug back and forth!
Can you see it? It's so tiny! And I love the juxtaposition of her poses and everything else around her! She's not a dainty girl by any means but she's absolutely in love with nature!
◽Optical Illusion Umaru Shirt with curved separating zip and built- in hidden pocket.
◽5-pocket Koko pants with placketed zip knees, and red faced slashes.
Sephira's look is, oddly enough, pretty monotone. In stark contrast to the usual rainbows, I chose to carefully add stripes of red, infrequently and "spontaneously", only popping up in the slashes on the jeans and the single stripe around the shirt. Starting with the shirt, I took my own pattern, the Umaru shirt which features a built-in, hidden, color-blocked pocket and altered it to be a continuous pattern piece folded up instead. I love the look of moto jackets but wanted to make something that could be worn any time of year so I made a cowl-necked shirt with a separating zipper that curves towards the neck (to mimic the curves of her sister's shorts curve). I found this interlocked knit fabric with basic black and white stripes, with a hidden pocket on both sides of the zipper. After the shirt was sewn, I felt it needed more excitement so grabbed about 5 black fabric markers and created an optical illusion effect with triangles within the stripes, by filling in the negative space (several times, until it was the same opacity as the original stripes) with black. The back (which can be seen in my post) has four hidden triangles as well as. A single stripe of red (the only thing that was fabric paint) was added to break up the monotony of the black and white.
Original "finished" shirt.
A bit too plain for my taste. So, despite desperately matching up stripes, (folded stripes, shoulder stripes, zipper stripes... you name it) I decided to make it more interesting by adding optical illusions and hidden shapes.
"In Progress" view of the front.
Here's a shot of the shirt front's work-in-progress. Cool, but knot quite there yet!
Full Final view of the back.
I realized after taking pictures that I wanted a good pic of the back (one where Sephira wasn't popping a hip out... her "go-to" move 😂). I hid 4 (or 5, depending on how you look at it) triangles by using a ruler and painters' tape as guides for what to fill in and where. The over-flowing stripes help disguise the shapes! I felt tons better about the final look as opposed to the original "finished" shirt!
The 5-pocket, black, denim jeans I made are adapted from the Koko skinny pants pattern by Blaverry and feature striped top-stitching on the pockets as well as a zipper fly, adjustable elastic back, and belt-loops. To make it edgier, I made cut-outs at the knee fronts then color-blocked them in white denim (with super secretive decorative stitching I'll mention later on) with zippers for when it's time for running and playing. I also added four "slashes" of red by making facings like welts to create a finished, reverse applique effect. Cool girl ready for some action? ✅Check!
The big question I asked myself when I was designing this week's theme was, how can I show stripes in a way that hasn't been seen frequently. Invisible stripes came to mind and then I discovered glow in the dark thread. Glow in the dark fabric paint hardly shows up on anything so I decided not to use that at all. I used the thread in several places: the twin top-stitching in the back of Azriella's shirt and Sephira's sleeves; as well as the (several) running topstitches on the white denim of Sephira's jeans and for two, satin-stitched rows on Azriella's shorts. I'm not gonna lie: glow in the dark thread is a persnickety beast, as the thread is 1.) expensive 2.) breaks easily if not threaded properly and 3.) it's prone to melting easily. I had to use my hand as a guide to let me know if the heat got too close when pressing areas around those stitches. If my hand almost burned, then the thread would definitely melt. 😂 After learning how to wield it, I can say that I think it was worth it. They lost their minds when they discovered their outfits glowed in the dark! That's what it's all about for me: my kiddos are excited about forward fashion and the stuff I make them.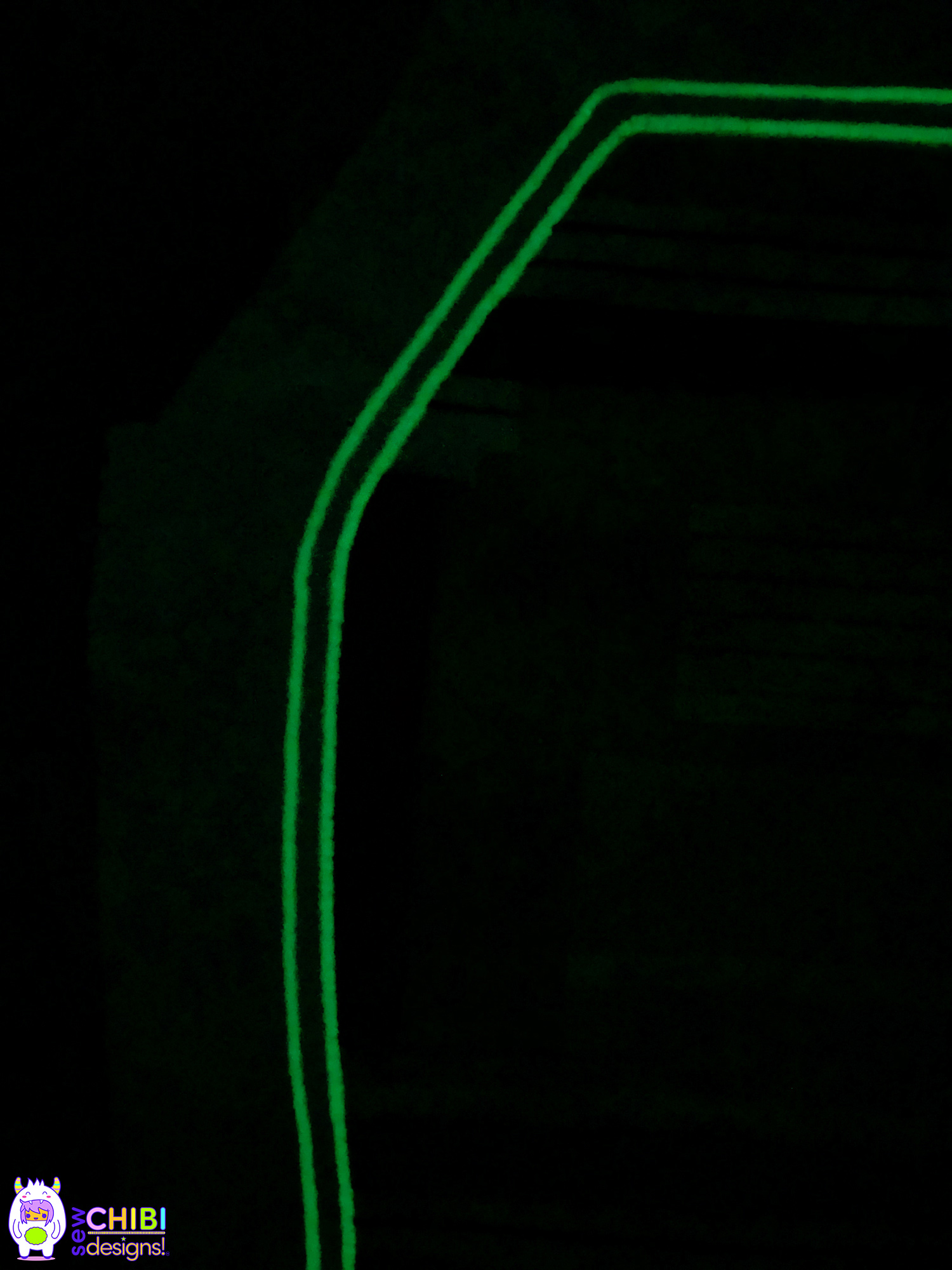 A close up of the glow-in-the-dark satin stitching using the specialty thread.
So that's it for my Stripes collection! This is the last week of eliminations before the final week next week! I need like 90 naps after this is all done but, man am I ever grateful to Audrey for asking me to be a part of something that was always a dream of mine! Have a great week everyone! Be sure to check out the rest of the looks by Sabra, Liesel, and Mabey!
First time checking out Sew Chibi Designs? Maybe it's your first time since I redesigned everything?! If you just want even more: more explosively colorful and silly handmades or are really keen to making super cute stuff, you should sign up for my Sew Chibi Designs Newsletter which keeps you up to date with all the willy antics I'm up to, PLUS exclusive access to my new SECRET FREEBIES CLUBHOUSE! created for sharing free patterns, updated content, printables, etc.
"It's like a secret sewing club for kawaii inclined! Make sure you sign up so you get...... deh secret password!