This is the stuff my dreams, guys. A couple of years ago, I putted around the idea of drafting and selling my own patterns. An overwhelming sense of "where do I even start?" was probably the main reason I hesitated. Even though most of the patterns I sew are Digital PDFs, it's still incredibly daunting to buckle down and take the plunge into drafting your first one! My advice to those considering it: just tackle one task at a time and celebrate your tiny accomplishments and hurdles every step of the way.
My girl had never shown a real interest in anything yet, until, around the holidays, she became inseparable from her stuffed "Horton hears a who" elephant plushie. And since I always look to my kids for inspiration (particularly for their birthdays) I focused on making her an elephant outfit. And then I had an epiphany: I'm going to make this into my first sell-able PDF Pattern! I decided to call it the ZOU Playset because zou is the Japanese word for elephant! Furthermore, I'm going to do this for each of my kids' birthdays, from now on! So get used to seeing some ultra fun, super kawaii inspired kids patterns popping up around here!✂🌈✂🎮✂🦄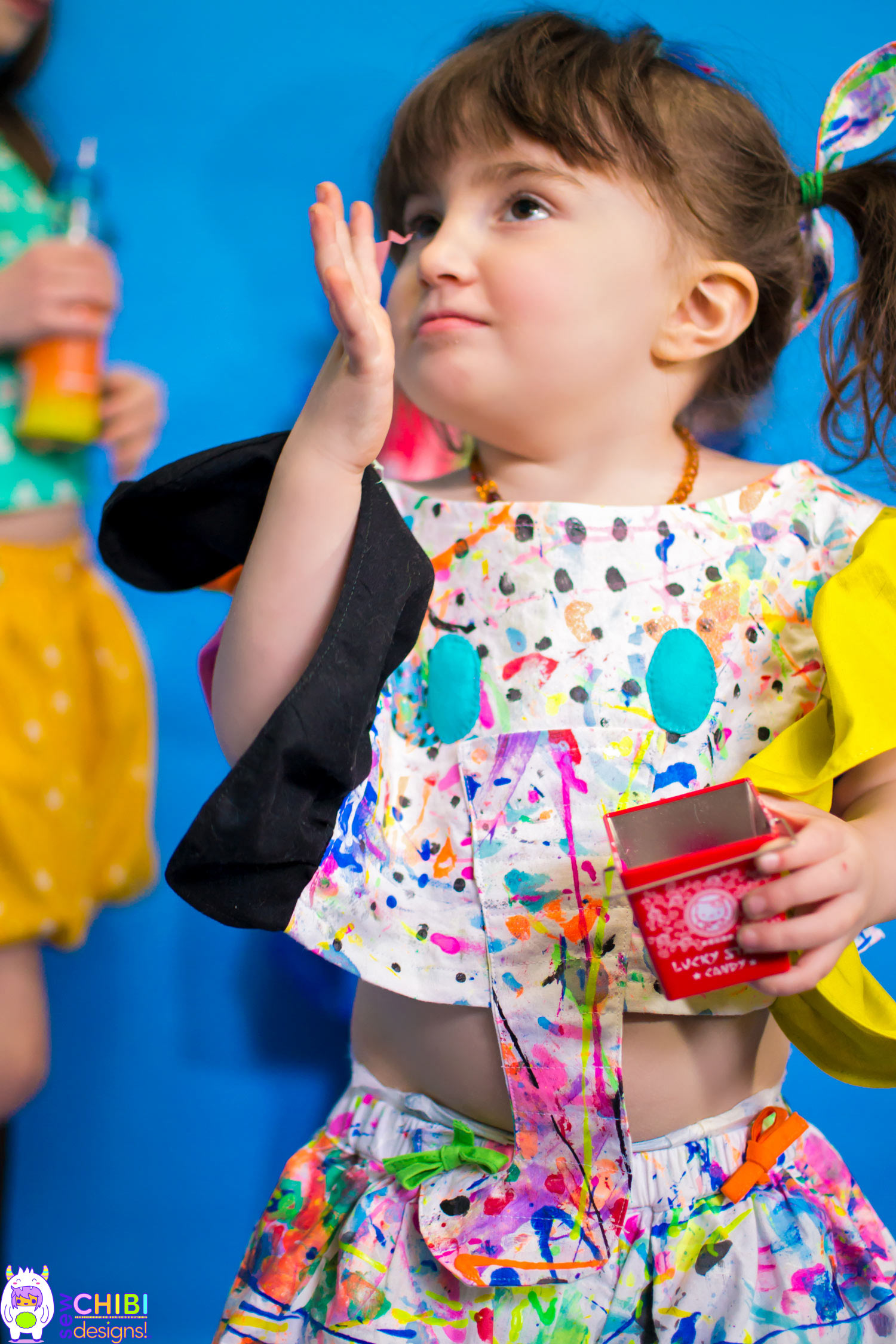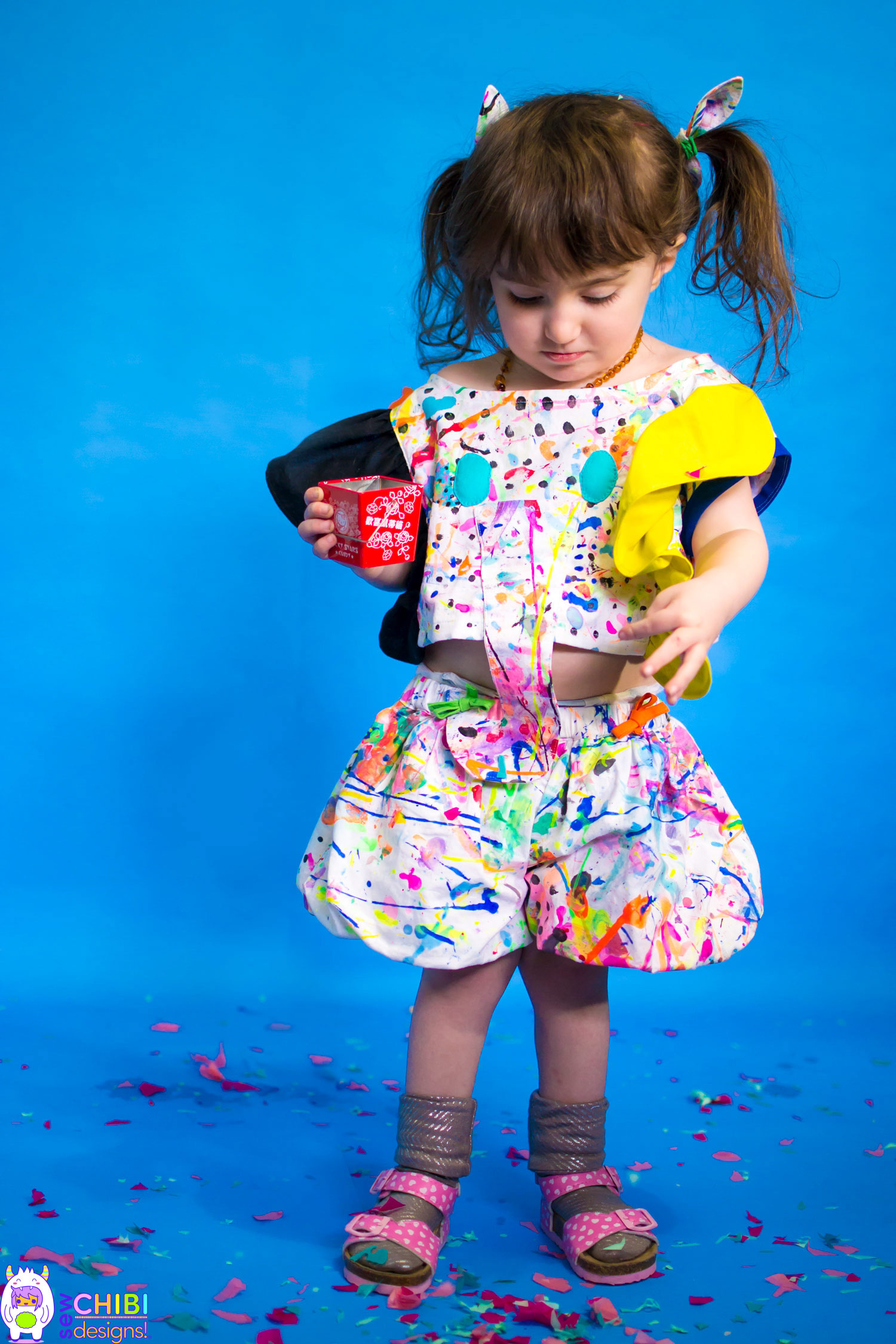 I wanted it to look like an elephant without becoming an elephant costume. And of course there had to be surprise elements; there's nothing like seeing there face light up when they notice something isn't only what it seems! It's even more fun when your testers don't realize something is more than it seems, until they sew it! But in the same breath, I wanted it to be something that would look great without anything added as well: I love the full elephant look, AND the "no extras" version! So let's talk about those options, shall we: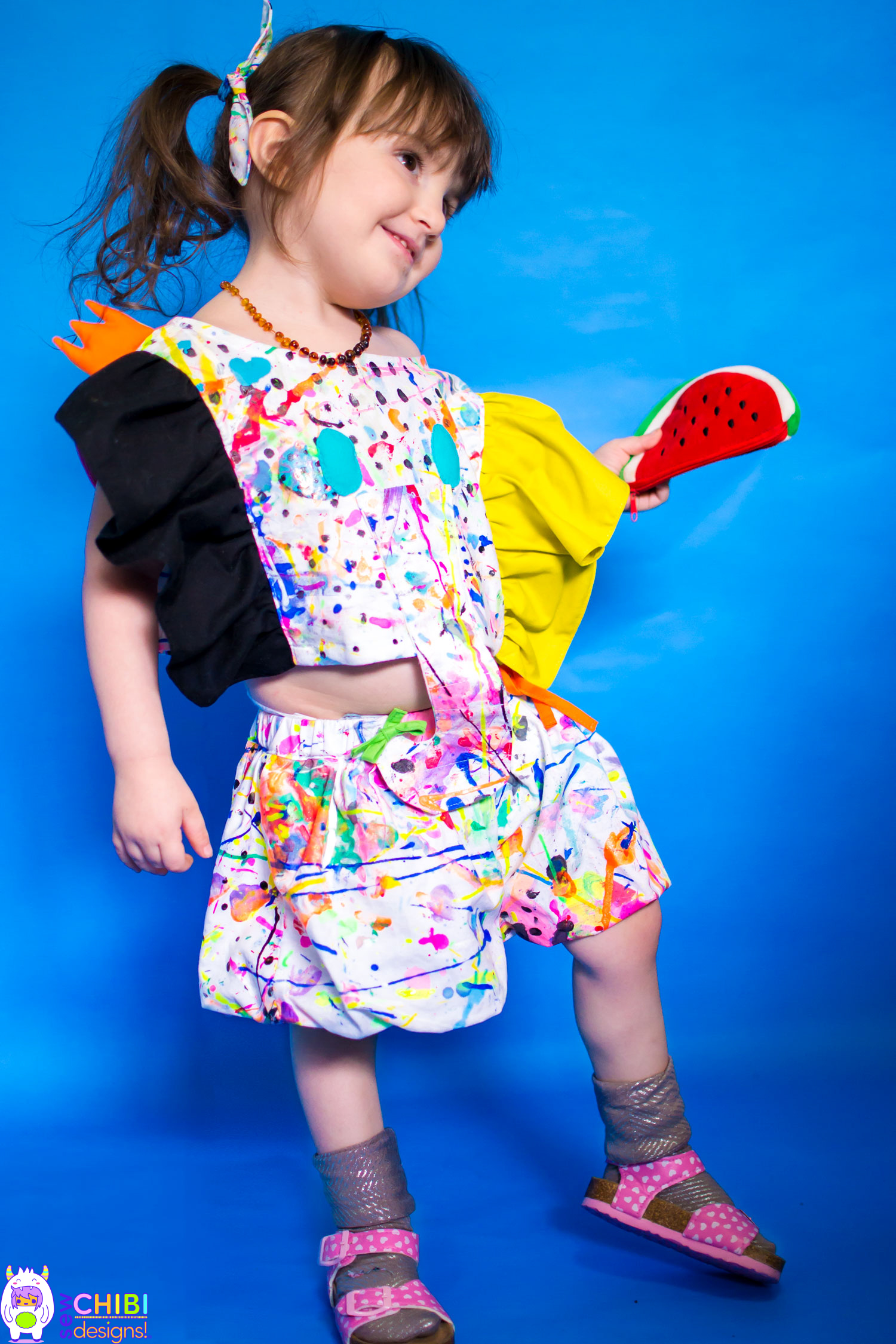 CROP TOP FEATURES
[sizes 2T-10Y]
•contrast side panels, arm cuffs, and button plackets
•gathered ear frills
•puff mini crown and eyes
•trunk that attaches to the bubble culottes and is [secretly] a pocket. (or mini trunk that fits completely on crop top.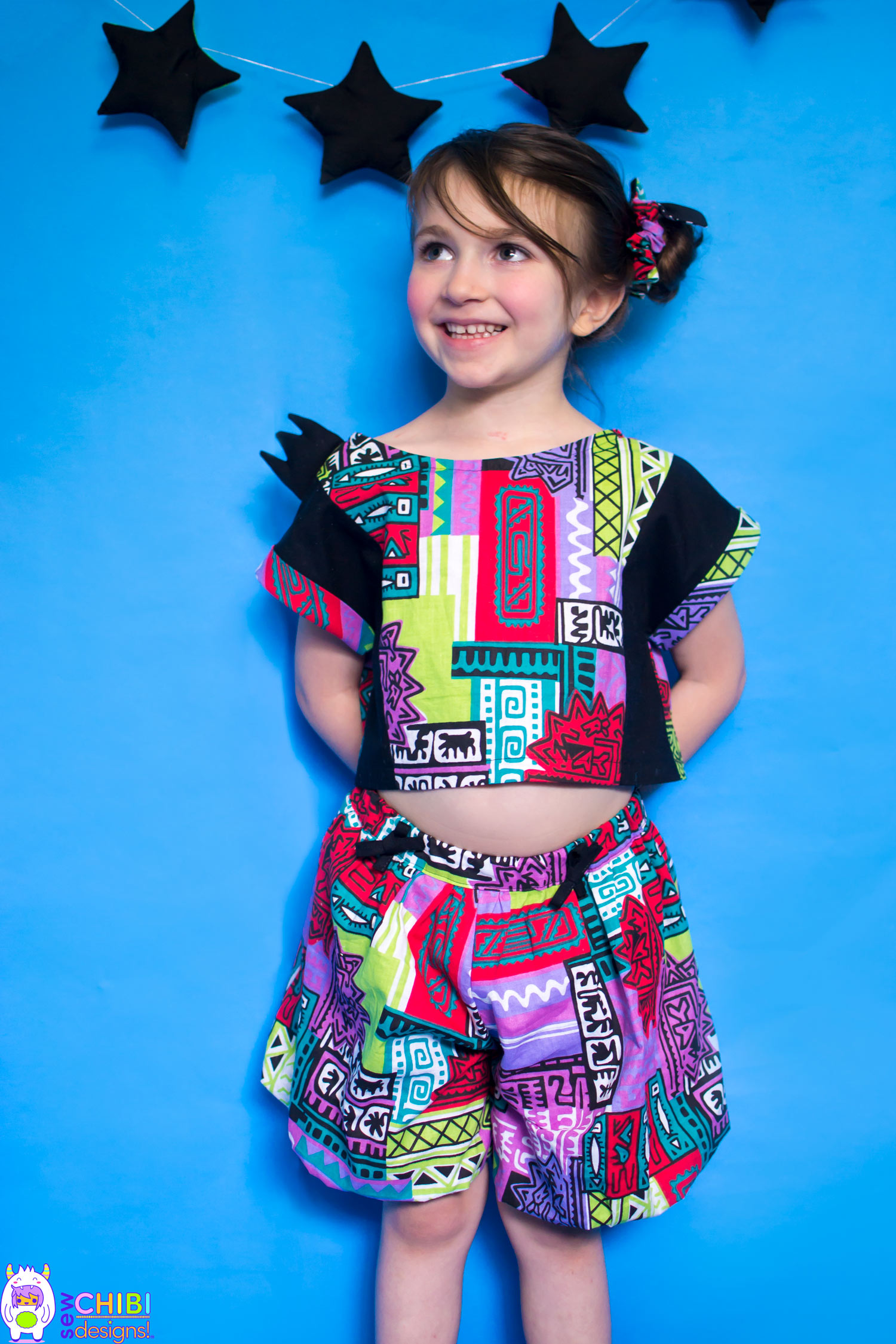 the SUPER BUBBLE CULOTTES
[sizes 2T-10Y]
•super poofy and fully lined.
•ties connect to the regular-sized trunk pocket
•optional snap-on tail
There are countless ways to change up the options to make it special! It's such a comfy outfit and so perfect for summer outings when the sun is blazing down! Such a happy, little playset; it even looks cute layered.
This would be thing to sew up for the summer edition of Kids Clothes Week, May 23rd- 29th! So many sunny, happy reasons to make some smiles with handmade goodness!
•contrast arm cuffs and plackets
•puff eyes
•little puff crown
•mini sized trunk pocket
•snap-on tail with fringe
•ties
[size 6Y shown here]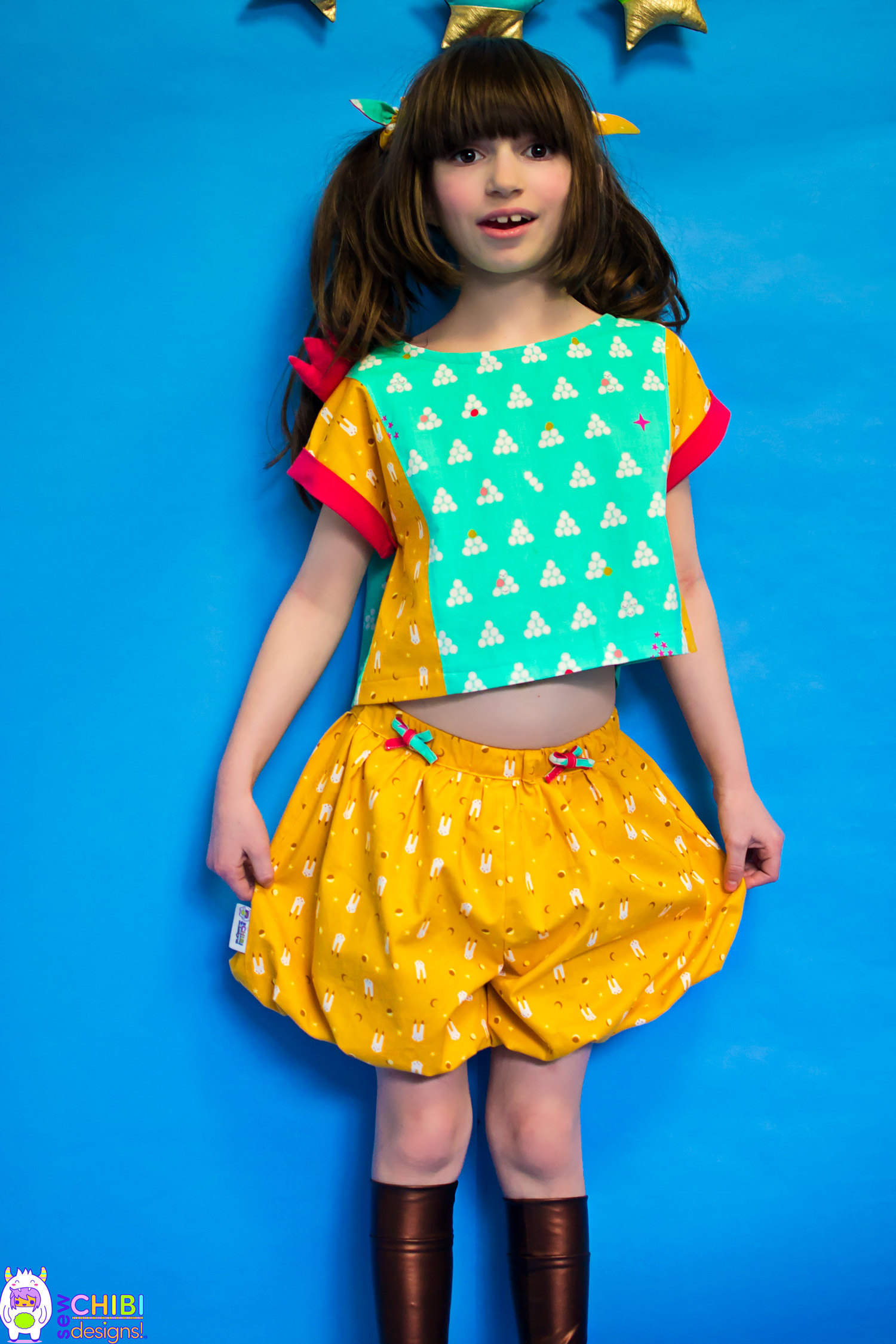 •contrast side panels,arm cuffs and plackets
•little puff crown
•ties
[size 8Y shown here]
My lovely testers for this pattern spanned the globe! They made such varied versions which really showcases the versatility of the ZOU PLAYSET. Check it out:
Aren't they all so lovely?! The multitude of fabrics choices really bring the pattern to life, right?! 🖤🖤🖤
The Zou Playset, as well as the separates, are on SALE for Mother's Day through Monday night using a secret code for all of my newsletter subscribers which takes 15% off!
Well what do you think!? I'm already drafting out my next pattern which will be even sillier than this one! You guys are going to LOVE IT!!!
If you don't already subscribe to my newsletter here's the skinny on all the details about super cool secret freebies clubhouse!!! Take care, everyone and happy Mother's Day!!!
First time checking out Sew Chibi Designs? Maybe it's your first time since I redesigned everything?! If you just want even more: more explosively colorful and silly handmades or are really keen to making super cute stuff, you should sign up for my Sew Chibi Designs Newsletter which keeps you up to date with all the willy antics I'm up to, PLUS gain access to my new SECRET FREEBIES CLUBHOUSE! created for sharingexclusive patterns discounts, free patterns, updated content, printables, and more! It's brand spanking new so stay tuned and be the first to new when new stuff gets added!